Cath Kidson Frames, New in!
Cath Kidston eyewear takes inspiration from quirky vintage finds to design pretty, colourful prints for their modern, fresh and fun glasses. This design philosophy has resulted in a collection of unique frames – wearing them is sure to brighten up your day!
The Cath Kidston optical eyewear collection is full of bright, modern frames sure to brighten up any look.
The collection includes timeless classics that are perfect for everyday wear as well as confident shapes for occasional flair.
Prints are carefully chosen to suit each frame, utilising the brands vast and vibrant design archive.
Signatures of the optical collection include discreet branding on the temple and a single rose – a Cath Kidston icon – adorning the inside of each end tip.
Special Offer…
If you buy one of our new Cath Kidson frames before the end of November you will receive a fabulous 50ml  Cath Kidson hand cream.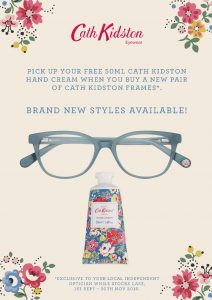 Waveney Eye Care NI- Ballymena